Arch are making a comeback in the interior design of homes again. It was not like that they ever vanished, but just houses became so systematic in recent times that arches were kind of out of fashion. But as the classics always make their way back and never fail to surprise, arch Design are one of the most important architectural wonders you can add to your house.
Fact Check- arches just not add a design element in your architectural quest but also provide support to the weight from the above as well as to the edges of a construction.
There are Numerous Types of Arch Design:
if you ever were thinking that arch design are just curves, then kindly change your perception by looking at the below options. Another very significant thing, which people often forget to consider, is that the shape and design of chosen arch depend on various factors.
Including the weight support capabilities for the required area. Not every hall can be decked up with just one style of arches, as they create a huge impact on the appearance and environment of the home. Choosing them should be a careful affair depending on the size of the arch opening you are looking at, the design of your humble abode, and your expectation of connecting two rooms through one arch.
In this article, we are going to introduce you to different types of arch design and their suitability in your home, have a look to spark up inspiration to help your halls getting a classic makeover.
Modern Arch Designs For Your House:
1. THE SOFT SEGMENTED ARCH Design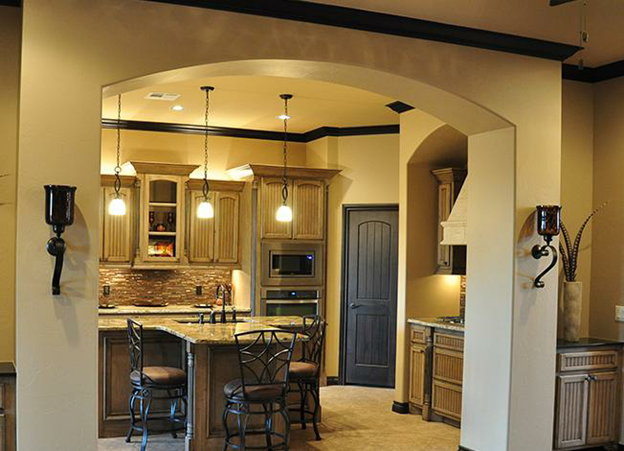 A single radius arc is a segment of a circle and is also known as an eyebrow arch. Allows you to choose your convenient rise, making it one of the most popular ones in the entire list of ideas. As you are the one that decides the curvature, you control the look that can be customized as per your interest.
The minimal arch design of the considered strongest segment of arches, adds a creative appearance to your simple hallway arches and does not consume much time and effort to create one. Another wonderful reason that makes them quite popular is that they are equally acceptable for both low and high header heights. Considered modern for their structural outcome, they look Beautiful.
2. THE ELLIPTICAL ARCH Design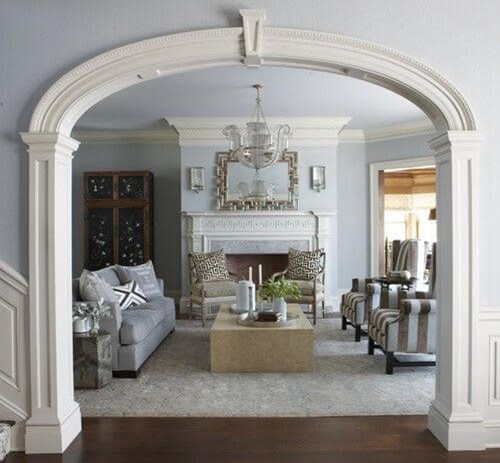 Extremely elegant and unique, elliptical arches, offer a smooth and curved transition into the main center curve and straight edges on either side. The illusion of a bigger opening is achieved with constantly changing radius to form the hood from sides to the middle.
These arches are in stark contrast with flat arches being more creative in design and varying purview of measurement. They are suitable for contemporary homes. Another notation for them is the three-centered arch, considering the three centers they are carried through.
3. BELL CURVE ARCH Design for Living Room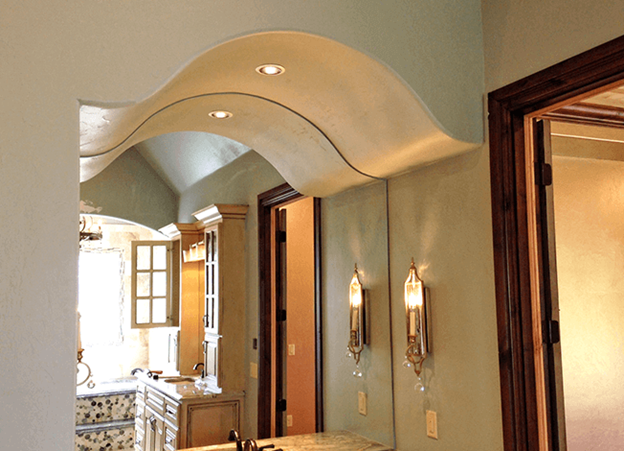 In a close association with the previously mentioned elliptical arch, Bell curve arches imply the outline of a bell curve, one major difference that keeps these two types of arch design apart from each other is the movement of their varying radius.
Where one style has a tighter radius at the sides flair down instead of up. They form an S-shaped curve and involves two arches curving in opposite senses. Again a superb idea for contemporary homes.
4. THE SHOULDER FLAT ARCH Design for Kitchen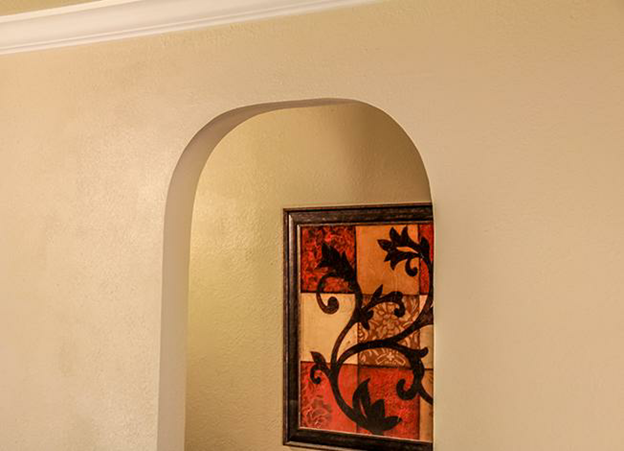 AKA the Jack arch, made from relatively small pieces of material to provide more consistent and precise joint width. It is a simple but elegant kind of arch style rounding of the corners of an opening with a flat header.
This arch is especially suitable for the low header heights and larger openings when the rise of the other arch styles could be too much to achieve an appropriate shape. Otherwise called a shoulder flat arch, allows you to keep the original header height with an elegant radius angle on each side. They offer a wide choice of modern decorative patterns to be accustomed to other elements.
5. HALF-CIRCLE Arch Design for Hall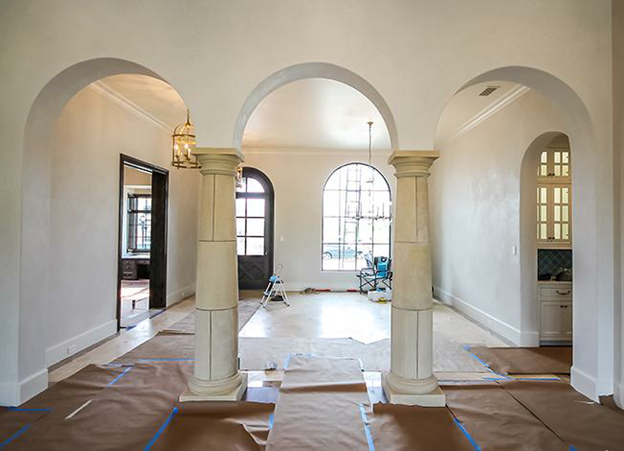 As the name suggests a half-circle shape for the arch. I.e. an option for higher headers spaces but could be appropriate for average pathways. The radius elongates at the middle, demands for a lot of space overhead. The purpose to introduce this arch was to introduce a warm and cozy feel to a home.
Mostly used in Spanish and Tuscan architecture, this arch gives an illusion of a very homely environment. Though it is considered the quite restricted style of arches considering the stretched rise expected to form the exact shit. That is why usually a half-circle arch collaborates with an elliptical or a dual radius arc.
7. GOTHIC ARCH Design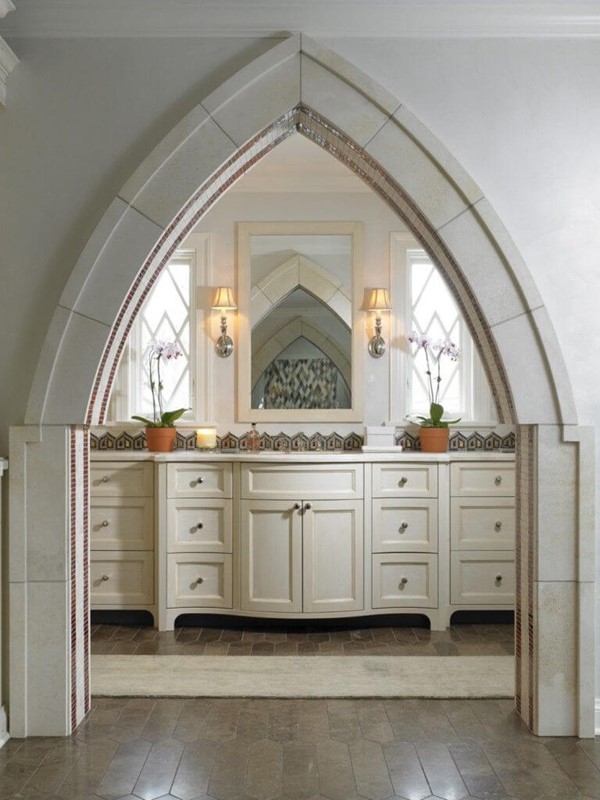 Providing a bit of a medieval feel, signifying strength, magnificence and, stature- Gothic arch design is popularly known as pointed arches as well. Extremely pointed at mid-header, with marginally curved segments blending to the edges on each side.
They might not be as popular as they were in gothic culture hundreds of years ago, they still stand with a clean appearance and ostentatious structure. While not as popular as they were once were several hundred years ago, they still make a point. The concept is based on an equilateral triangle sharing equal support from both segments. Opposite segments took from a circle and having the same radius.
Final Words:
We are sure that the above information is impressive enough to let you get an arch design in your home. However, this is not enough, there are many other types of arches derived from their base versions classifying them modern, contemporary, or traditional.
Though this is true that the purpose of having a perfect arch design originally is strengthening the respective areas while enhancing the decorative element and hence are constructed during the core stage with solid materials like bricks, stones, concrete, or metal.
Nevertheless, installing one just for design purposes and providing your already constructed home a luxurious feel isn't bad either. Only the materials that could be used are engineered wood, framed glass structures, plaster of Paris, or any other such light substance.
Next Read:
10 Om Tattoo Designs and Ideas 2023